My Dad the World Champion
At seven o'clock in the morning, the Potomac River is still a silver haze. But the docks are already busy with athletes lifting boats off the water and replacing oars in their racks. ​ ​
As we enter the boat bay, I ask my father what he usually does when he gets here in the morning.
"Put my stuff in my locker," he says. "And a certain back stretch that I do at this age." I ask him if I can tape his back stretch. "It makes absolutely no sound, fortunately. If it's making noise, I'm in big trouble."
My dad is an Olympic athlete. Summer games, Tokyo, Japan. 1964.
"Can you describe your back stretch?" I insist.
"I sit on a bench, right forearm on my right knee, and twist--and then of course, I do the other side! Took a couple years of practice to get that straight."
Dad's road to the Olympics began at Cornell University. After getting cut from the tennis team, he and four other college buddies qualified for a four-man boat in the Lucerne, Switzerland World Championships in 1962, where he saw international rowing for the first time.
"I saw all these boats, you know, singles, doubles, quads--people from all over the world, and they were big, and they were strong, and they were fast. I just thought, this is unbelievable! I thought I knew this sport, and I was looking at a fishbowl, and there's a whole ocean out there!"

ABC News covered the finals of the men's single sculls, which starred the reigning Olympic champion, Vyacheslav Ivanov of Russia. I grew up knowing "Ivanov" as a name with an imaginary face, like a character in a book.

"He had angular features and these kind of hawk-like eyes, and short-cropped hair--I think we all did in those days," Dad says. I tease my dad about this, as he's is presently quite bald. "I did have hair in those days, and I've got pictures to prove it, my dear," he says.

A rowing race is 2,000 meters and about six minutes long. Dad watched from the sidelines as the Russian icon sprinted from third place into first over the last five hundred meters of the course, passing the U.S. national champion, Sy Cromwell on his way to winning the 1962 World Championships title.
Two years later, my father returned to the 1964 World Championships in a single. He would be facing Ivanov for the first time. By then, Sy Cromwell had become a close friend.

"Sy said to me, 'You're going to be racing Ivanov. What you have to know about Ivanov is he can sprint by everybody in the world. That's how he wins his races. If you have a length on him with 500 meters to go, he'll beat you by a length. It always happens. It happened to me, it's happened to everyone he's raced.'
And--that's what happened.
"Ivanov passed me with five hundred to go, and he greeted me very warmly after that. He gave me his shirt, I gave him my shirt," Dad remembers.
My grandfather was there, and he took a picture of the two competitors exchanging jerseys, as is the tradition in rowing. "Ivanov was smiling broadly. I still have that picture. And I came back from that race saying, 'OK, now I know what I have to do.'"

Dad and Ivanov were scheduled for a showdown later that summer, at the 1964 Olympic Games in Tokyo .
"I spent July and August, two solid months, rowing twice a day. Each workout was six 500-meter pieces. The last three, I would crank it up like the last 500 meters--and it was brutal. It was so hard. And every time I did it, I would think of Ivanov passing me.
"We get to Tokyo and my heat had Ivanov, and me--flat water, it was perfect conditions. Five hundred meters to go, I have a quarter-length of open water, and you know he looks at me and I see this gleam in his eye, like, 'I'm gonna eat this guy for lunch'"
This story is legend in our family. We've told it so many times that sometimes, I think I was there too.
"My mental image was the water started to froth under his boat. I mean I know that wasn't happening but I said, here he comes, I said, 'OK, YOU SONOFABITCH, I'LL SEE WHAT I CAN DO.'"
ABC announcer Bud Palmer could hardly believe what he was witnessing. "Ivanov, many say, is the world's greatest sculler," Palmer announced. "If Spero wins, it will be quite an upset! Last 500 meters, Ivanov is taking his sprint--let's see if Spero can match it..."

"We came charging into that last 500, and I thought, 'It's just like it's supposed to be, I'm holding him. He's not gonna get me.' And with about 10 strokes to go, he realized he wasn't gonna get me, and he stopped. He actually stopped rowing! It's the best race I ever rowed in my life."
There was only one problem.
"It was the wrong time, because it was the heats, not the final."
In the final, Ivanov sprinted to his third Olympic gold. My dad came in sixth. Weather conditions were so rough that racing was cancelled after the men's single, and my father, who had been sculling for a year and a half, simply couldn't keep up with more experienced rowers in the Olympic field.
He trained for another two years before he finally met Ivanov again at the 1966 World Championships in Bled, Yugoslavia. This time, he won the final.

"When I crossed that line, I was elated of course: 'Hot damn, I'm the World Champion!' And then the next thing, the next thing I thought about was, 'I don't have to row anymore--I'm not going to row any more. I'm going to finish my thesis,'" Dad says.
Dad went back to his doctorate in physics. He still sees many of his former opponents at friendly reunions. But Ivanov was always remote. My father saw him only once more, at a gathering of World Champions in 1989.
"Ivanov never changed. He was sort of shouting, 'We should race, we do 500 meter race!' And everybody's looking around saying, 'Nah, we finished beating up on each other, you know, this is for fun!' Not Ivanov. He sits in his boat, shoves off, and he gets this defiant sort of snarl in his face, and I swear to God he took a racing start off the float. Boom-boom boom-boom-boom!! Like he was about to go out and row the finals of the Olympics. It was incredible, it was beautiful, it was perfect. He took about 15 strokes almost had a coronary attack. That was it."
My dad will be 69 on opening day of the Beijing Olympics. He's still rowing, but when we watch the Olympics together, I know it's a different, more professionalized world than what he experienced as a competitive athlete. For my dad, the challenge of Ivanov was like super-charged puzzle, and besting him to win a world title was the necessary final piece.
"That's what I did. It's not who I am," he says as we put oars into a double, and the sun sparkles off the water at a slothfully late 8:15 a.m. "It's a basis for saying, I'm going to be confident about this sport, go out and enjoy it. But I've never felt that I had to row to prove anything, because I already did that."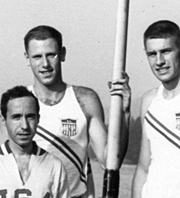 World-Class Athletes
(Courtesy Don Spero)
View the Slideshow
​